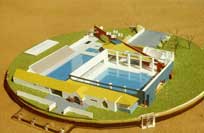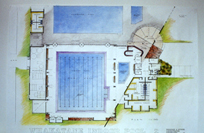 Indoor Heated Swimming Pools
Indoor heated swimming pools are expensive to build. Their failures are complex and costly to rectify and often politically embarrassing to owners. It is important to do it right first time. Architect Associates will analyse your design drawings and pinpoint and rectify problems before construction begins -- ensuring the pool building will work and be easy to maintain.
For already established pool problems we can diagnose the causes, consult appropriate experts and form a remedial programme.


Common signs of indoor heated swimming pool failure are:
a.. Condensate water dripping from
ceilings/walls
b.. Excessive humidity
c.. Metal corrosion
d.. Fogged windows
e.. Excessive noise