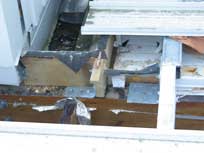 Technical
Graham's own practical experience, extensive reference sources and access to industry experts, enables Architect Associates to quickly assess important issues relating to building defects and to potentially liable parties. Architect Associates works constructively within this environment.
Graham has reviewed the documentation and construction of many indoor heated swimming pool failures and detailed effective design solutions. Where appropriate, Architect Associates will engage with other specialists. Graham has an ability to comprehend complex contractual structures and provide appropriate expert opinions and evidence to assist legal counsel in their preparation of proceedings and defence.

Graham has a keen understanding of structural engineering concepts, valuation principles and project management and can bring these together to provide innovative and cost effective architectural solutions to building construction problems.
Graham is skilled at interpreting reports on building construction failures and also professional negligence aspects of architectural practice. He is a good negotiator and problem-solver in this highly complex environment.