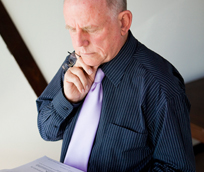 Expert Witness and Opinion
In the process of determining what went wrong and who is at fault in a building dispute, Architect Associates is often called upon to explain to the court the duties and skills of architects and builders. Graham is also consulted by the architectural profession on matters of professional practice and architectural design copyright.
Architect Associates director, Graham Strez, is experienced in producing relevant architectural advice, opinions and court evidence. He understands the lawyers requirements for evidence and conduct.
PROFESSIONAL NEGLIGENCE
For over 25 years Graham Strez has been elected by his peers to review the conduct of architects when their professional services have been called into question. He is a skilled negotiator and problem-solver in this highly complex area.
"Mr Strez has been called upon to provide professional advice in relation to all aspects of architectural practice but in particular as it relates to practice standards within the profession. I regard Mr Strez as being at the forefront of experts in that area." - Lawyer
"I hold Graham in extremely high regard, both as a capable architect and as a highly experienced professional." - Architect
"Graham's long involvement in the Continuing Professional Development of architects particularly in respect of architectural risk management has earned him the gratitude and respect of his peers." - Architect
"Graham has an in-depth understanding of practice management and has formed an innovative and highly successful way on conveying his knowledge." - Architect
"Graham brought the business and professional world alive for his students with a combination of theory and solid experience. Graham's courses were extremely well documented, providing information on the subject which would become a lifetime reference for a developing practitioner." - School of Architecture Head
"I already had a background of 20 years' experience in business, mostly in general management roles that encompassed several aspects of planning, management accounting, and administration. Nevertheless, most of the course content still felt new, interesting and relevant." - Architecture student