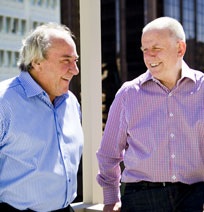 Kevin Clarke
As founding director of three architectural practices in 32 years -- Kevin Clarke and Associates, Clarke Cotton Architects Ltd and Clarke Consultant Architects Ltd -- Kevin has undertaken a wide range of work for government departments, territorial authorities, schools, commercial property developers, corporate property investors, tourism developers and national retailers. His varied project portfolio includes master-planning real estate developments, urban park designs, aquatic leisure centres, school facilities, hotels, corporate headquarters, commercial office buildings, industrial projects, and residential work ranging from apartment developments and nationwide low-cost housing, to large bespoke homes.
E
He was Auckland regional manager for Opus Architecture between 2001 and 2003. Kevin is engaged as an expert adviser to courts and insurers for architects, councils and building contractors. Kevin has a Bachelor of Architecture from the University of Auckland and has been a Fellow of the New Zealand Institute of Architects since 1990. During 2006 and 2007 he was a part-time senior lecturer in project management at the University of Auckland School of Architecture. He has won nine design competitions and twelve design awards.
Architect Associates has had a longstanding professional association with Kevin Clarke and consults with him on projects when appropriate.